You know how nagging tough weeds can be in your lawn or garden and how annoying it is to take care of. If you face this way, using a dandelion puller tool can help you release from indomitable weeds and dandelions quickly and effectively.
While the summer arrives, gardening time starts, and with it- every lawn owner or gardener's headache will be: dandelions. Though the bright yellow herb may be beautiful to look at, it means unbounded weeding as the plants grow up over the garden beds and lawns.
If you are eco-friendly, you must try to avoid using harsh chemicals for killing them. So, you need to remove these weeds by hand, which is really difficult and impossible if you have a medium to large-sized lawn. Therefore, a dandelion puller or dandelion removal tool is the right way for you.
5 Best Dandelion Puller Reviews
Choosing the best dandelion puller isn't an easy task; that's why we have enlisted here the best 5 dandelion pullers over the markets and a perfect buying guide for you.
1. Grampa's Long Handle Dandelion Picker
Grampa's long-handled dandelion puller had held a good position since 1913, when it was made, due to its classic and simple design. In 2019 it improved again for making a more potent weed removal tool. Its simple 45″ bamboo handle with a steel 4-claw design works efficiently on all soil types, especially after rain or watering. It saves your back and knees and controls weeds which is safe for children, pets, and the environment.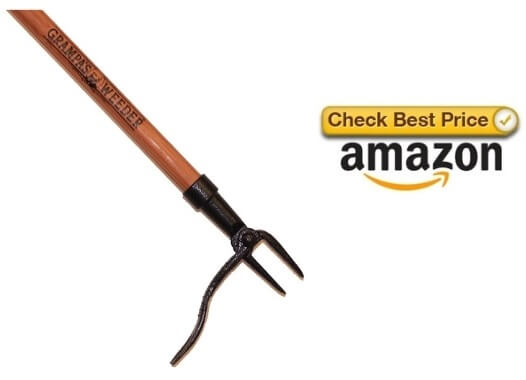 In addition, though it looks light and feeble, it is really very potent and long-lasting. For using Grampa's puller, just push the metal claw into the soil and tilt the handle. You will get uncounted comments and reviews on the internet, including gardening forums and retail stores, regarding Gampa's praise.
Key Features:
Made of powder-coated steel
45-inch long stand up bamboo handle
Steel made 4-claw design
Strong weed removal tool
Light and durable
Product dimension: 46×8×1.5 inches
Item weight: 1 pound
Item model number: CW-01
Warranty: lifetime
Pros
No need to bend while removing dandelion
Working on all types of soil
Can remove any weeds quickly and easily
Tall people can use it easily
Removing the entire root of the dandelion
Suitable for those who have back and knees problems
Pretty well made
Cons
Works low in dry soil compared to wet soil
Grampa's weeder has occupied the number one position in our list because of its outstanding global ratings, customers feedback, and performance.
2. Walensee Stand Up Weed Puller
Walensee Weed Puller is a light weed puller made from durable stainless high strength steel that uproots the weeds with minimum soil removal. One of the main differences compared to other tools is, it doesn't leave large holes in the lawn. Its outstanding feature is the three sharp spikes instead of claws, which are 2.75 " steel teeth long enough to go into the deep soil and uproot grassroots effectively.
The excellent food pedal helps you put enough force to penetrate the ground and occupy the whole weed. The customers feel really impressed by how easily it can be used. Moreover, this tool is easily workable for crabgrass, tap root, plantain, thistle, burdock, clover, bush, etc.
Key features:
39-inch durable stainless high strength steel handle
2.75-inch three sharp steel spikes workable for various soil types
Comfortable flat foot pedal
100% money-back guarantee
Product dimension: 39.5×9.5×2.5 inches
Item weight: 16 ounces
Pros
Pulling weeds from the roots
Easy to use
Removing weeds without bending over
Engineered for long-lasting
Labour-saving
Steel construction for high durability
Excellent for even strong weeds
Cons
3. Ames Steel Stand Up Weeder
Ames 2917300 is a steel-made stand-up puller that uproots weeds from the roots. It comes in a unique solid design that makes dandelion removal effortless. It has a green ratchet handle on the tool's shaft, which you can push in a sort of pump-action motion, removing dandelions from the spike head. Undoubtedly, this is a robust, well-designed tool, including an ejection slide, allowing you to release the various kinds of weeds and prevent fatigue easily. Because of its 40-inch long shaft, you wouldn't have to bend while pulling weeds.
We really like the Mechanical function of this tool. To uproot the dandelion, push your foot down on the foot pedal to run the claw head into the soil around the dandelion. Hold the T handle with both hands, spin the puller at 90 degrees, and heave the weeds from the ground. During use, users don't need to bend over or kneel down.
Key Features:
New ejection slide for easy removal
Durable 40-inch steel made the shaft with lightweight poly construction
Unique plunger clears weed after removing
Offering double-duty by aerating the soil for a healthy lawn
Stand-up tool typical for eliminating pesky weeds without chemicals
Product dimension: 3×12×40 inches
Item weight: 3.6 pounds
Warranty: 15 years
Pros
Durable for long-term use
Working well in clay soil
Typical for tall people
No chance to bend or get damaged
Excellent for digging and clearing irrigation ditches
Offering soil aeration
Pulling weeds completely
Cons
A little bit expensive than the similar tool
Lifting too much soil compared to a similar tool
4. Garden Weasel Weed Popper Dandelion Tool
Garden Weasel step and twist hand weeder is another excellent tool for removing dandelions. This is made with carbon steel which is weather and rust-resistant. It has a button between the handle grips to press and eject the dandelion from the claws so that you don't need to bend over or break your rhythm. It's straightforward to use and ergonomically designed to keep you upright. It is also effective for pulling crabgrass, taproot, dallisgrass, and even planting flowers.
This model is gripped into the ground through a foot pedal and spined 90-180° angles to work the same lines as the other stand-up weed pullers. The spinning action cuts a circular plug around the dandelion or weed root, offering you to lift it right out of the ground easily.
Key Features:
36-inch long tool
Durable carbon steel made design
Two steel claw
Steel-made flat pedal
Ergonomic design
Effective for multiple uses, including planting flowers
Comfortable handle
Item model: 95204
Product dimension: 38.25× 9.75× 2.25 inches
Item weight: 2.5 pounds
Warranty: Lifetime
Pros
An excellent manual dandelion weeder
No bending, kneeling, or straining
Digging hole or planting flowers opportunity
Working efficiently with dry clay soil with rocks
Easy to use
Cons
Leaving a big hole compared to other tools
The plunger doesn't release mud
5. Worth Garden Stand Up Weeder
If you are looking for the best dandelion weeder that can efficiently deal with all your garden weeds, the Worth Garden Weeder is a perfect choice for you. It has five-pointed claws that pull the dandelions and weeds, neglecting what types of soil they are growing in. It offers a better grip than most other dandelion pullers and features an ergonomic design making gardening easy.
In addition, it consists of durable, long-lasting steel, which can fend your weight While pushing on the foot pedal. The 33-inch long handle allows you to uproot the dandelion without having to bend over or bend down your knees. It has a foam-padded handle to ensure better grip and comfort.
Key Features:
33-inch steel made tall handle
5-pointed claws suitable for any soil
Made with durable steel
Ergonomic and padded foam handle
Zinc-plated technology making it rust-resistant
Product dimension: 7.1× 2 × 34 inches
Item weight: 2.29 pounds
Warranty: 3 years
Pros:
Made with durable steel materials
Foam-padded handle gives better grip
Pulls up practically with no dirt
Easy to use
Nail grabber is excellent for removing any kinds of weeds
The ejector doesn't require any bending
Pulling roots completely
Cons:
It can be hard on your hands
What things need to consider before buying a dandelion puller?
There are some important things that need to consider before buying a dandelion puller.
Handle Length
Handle length is one of the main things that need to consider before buying a dandelion puller because an appropriate handle can help you shorten your efforts and enhance results. You have two options to choose the length of the handle. If you are a tall person, choose a tall handled puller. Similarly, a short-handed tool is appropriate for you if you aren't a tall person.
Short-Handled Dandelion Tools
To keep close contact with your plant, short-handled tools are best. For the dandelions that are either clustered or closely packed, you can use this tool for pulling. But you may need to bend your knees to work with it. Moreover, increasing control over soil dispersion in your garden, a short-handled puller is excellent.
Long-Handled Dandelion Tools
The long-handled tool is appropriate when you don't want to bend your knees working in your yard. Besides, these are more suitable to cover larger areas in less time. In other words, if you have arthritis or back pain, undoubtedly, a long-handled tool is the only way for you.
Head Type
You know how important it is to eliminate weeds from root or shoot. There are various weed removal head types, each of which has its own advantages and drawbacks.
Materials
A weed puller made from a durable and sturdy material is always better than a rickety that can't last long. Therefore, such tools must have claws or metal spikes that must be resistant to deformation, bending, and rusting.
Tools with steel handles or metal parts are always stronger and sturdier than bamboo or plastic components. Moreover, never forget to check whether the puller handles have some sort of cushion grip to minimize hand fatigue while in use.
Design
The design of a dandelion puller is another essential factor that you must need to consider. The design of a weed puller should be such that the weeds can pull with minimal endeavor. In that case, the puller's balance, weight, and shape have to take into consideration.
In addition, you need to consider the size of the dandelion in your lawn, as the typical size would depend on this thing. For example, smaller tools, including curved shafts and fork tips, are great for pulling shorter weeds. On the other hand, a long-sized puller is perfect for removing long weeds. As a result, we have attached models with different shapes and sizes in the above list.
Dandelion Tool Durability
Dandelions like stubborn weeds need a lot of effort to pull out from the soil. So, if you use plastic or aluminum-made tools, chances may have to break or bend due to pressure. Furthermore, tools made from soft materials can't penetrate into the hard dry soil or heavy clay soil. As a result, tools made of premium quality steel ensure higher durability and sturdiness and have a lower possibility of rusting or breaking.
Final verdict
Hopefully, now you have decided on the most appropriate dandelion weed removal tool according to your requirements. Nevertheless, if you don't, Grampa's weeder is our first recommendation for impressive global ratings, customers reviews, and performance. Our second recommendation is a Walensee weed puller for a lifetime warranty and excellent performance. Do you agree with our verdict? Let us inform you in the comments section below.