A manual pole saw means a saw having no engine where you are the source of power. They have long poles that enlarge well beyond your average reach, giving you trimming and pruning tree branches that you couldn't touch otherwise.
There are always trees or large bushes in our lawn or garden that aren't easy to trim or prune. We are searching for a professional manual pole saw that can make the task very easy. The primary purpose of this article is to help you choose the best professional manual pole saw that suits your requirements. Whether you are searching for the best overall pole saw, best for the money, or budget-friendly, we have covered everything. 
Manual pole saws are a very effective and well-known tool for cutting high tree branches. But choosing the best one is really important for doing the job correctly. We suggest you have a look at the 7 best professional pole saws in 2021.
Our Top Picks:
Brand 
Rank
Key Features
Notch 40207 Pole Saw Set
1
1. Including three 6-feet fiberglass pole
2. 15-inch heavy-duty double-thick curved blade
3. Rust-resistant chrome plating and stroke hardened teeth keep the sharpness of the blade edge
4. The locking system ensures security with the saw and confidence
5. Pruner attachment: No
6. Maximum pole length: 18-feet
7. Handle material: Fiberglass 
8. Overall weight: 8.4 pounds
Fiskars 14 Foot Power-Lever Extendable Tree Pruner 
2
1. 15-inch Woodzig saw blade
2. The extended pole can reach up to 14 ft in height 
3. Power-Lever technology increases leverage to provide double cutting power
4. Maximum cutting capacity: 1-½ inch diameter
5. Rust-resistant and low-friction coating 
6. Weight: 5.8 pounds
7. Warranty: Lifetime 
Jameson Landscaper Pole Saw Kit
3
1. Versatile 3 pole system to trim at a variety of heights
2. Aluminum ferrules and external leaf spring locking button
3. Low profile saw head maneuvers with dense foliage
4. Blade length: 16-inch
5. Barracuda Tri-cut saw blade for ensuring the quick and easy cut
6. Maximum pole length: 18-feet
7. Handle material: fiberglass 
8. Pruner attachment: No
9. Overall weight: 7.98 pounds
Corona TP 6870 14-ft. Tree Pruner
4
1. Chain-drive dual compound pole saw
2. 14 feet telescoping fiberglass pole
3. Curved 13-inch razor tooth high carbon steel made saw blade
4. Comfortable 24-inch foam handle grip 
5. Cutting capacity: 1-¼ inch
6. Twist-lock adjustment for speedy and safe pole adjustment 
7. Impulse hardened teeth
8. Weight: 6.5 pounds
9. Warranty: Lifetime
DocaPole 6-24 Foot Pole Pruning Saw
5
1. 24 feet Double-duty extension pole
2. Extends from 6 feet to 24 feet
3. Razor-sharp 13-inch bidirectional blade
4. High-quality aluminum made
5. The foam-padded grip offers comfortable use
6. Rust-resistant 
7. Lightweight and sturdy handle
8. Compatible with all standard threaded extension poles
9. Weight: 7.68 pounds
Milliard 6-16 Foot Extendable Tree Pruner
6
1. Extra-long 16 feet high pole made from fiberglass and aluminum 
2. 14-inch 1.2 mm thick high-carbon SK5 steel blade
3. Effective nonstick pruning shears
4. Comfortable foam handle 
5. Maximum length: 16-feet long
6. Handle material: fiberglass 
7. Weight: 5.64 pounds
HOSKO 10FT Pole Saw 
7
1. 10-feet long stainless steel  pole 
2. Three-sided sharpened edge blade
3. 100% risk-free satisfaction guarantee 
4. Hook on saw head pulling down loose limbs
5. Pole can be maximized 3.5 FT to 10FT
6. Divide into several detachable sections of pole
7. Blade length: 12-inch
8. Weight: 3.19 pounds
Why choose a manual pole saw?
There are some primary reasons behind buying a manual pole saw which are given below.
No installation requirement: 
Before using a manual pole pruner saw, you don't need any installation. You simply need to buy one and start working.
Comparatively Cheap: 
The manual pole saw is cheap compared to other electric, or gas-powered pole saw. Everybody can't purchase gas or an electric-powered pole saw due to its high price.
Risk-free:
A gas or electric-powered pole saw is not only tricky but also a risky tool to manage. If you have no knowledge regarding electric or gas-powered pole saw, you shouldn't use them without any guidelines as they may kick back suddenly and cause injury to you. But a manual pole pruning saw is entirely risk-free and doesn't require any special guidelines.
Lightweight 
The manual pole saw is very lightweight than other electric or gas-powered pole saw. That is why it is very simple to use and easy to carry.
Less cumbersome 
As a manual pole saw comes with a simple design and is lightweight, it is less cumbersome than an electric or gas-powered pole saw.
Reviews on the best professional manual pole saw:
Here is our brief discussion on the 7 best manual pole saws that will help you make the best decision.
1. Notch 40207 Pole Saw Set
Notch yellow pole saw is an excellent manual pole saw over the market. It comes with a base fiberglass 6-feet pole and two 6-feet extension poles, 18 feet in length. It's a very well-made and quality piece of equipment ensuring comfort in work time.
Its SK4 high carbon steel, 15-inch heavy-duty double-thick curved blade gives quick work of any wood. It is made of rust-resistant chrome plating, and stroke hardened teeth to keep sharpness on the blade edges longer. Besides, lightweight design inspires to hold for a long time above to trim or cut anything. It may take 30 seconds to cut a 2-inch branch.
Pros:
Outstanding performance
Robust construction
Budget-friendly professional tool
Rust-resistant
Quick cutting capacity
Quality fibreglass pole
Easy to use and cut
Money saver
Lightweight
Cons:
It isn't a telescoping pole
---
2. Fiskars 14 Foot Power-Lever Extendable Tree Pruner 
If you are searching for a value-for-money manual pole saw, then Fiskars pole saws might be the best option for you. Its 15-inch rust-resistant blade makes our tasks more manageable. The blade prevents tree sap or other residues from hampering its cutting capacity by a special coating feature.
We also like the 'power-lever technology' that twofold its cutting capacity and begins the opportunity to finish tough jobs quickly. Due to its blade quality, we really think this one deserves 3rd position in our top 7 picks.
The pole consists of fiberglass, which makes it durable and lightweight. Moreover, it has a lifetime warranty, which is a good sign for customers to believe the product.
Though the blade has laudable features, we observed it does struggle to trim some thick branches. Apart from this, we still regard it as an excellent value for money tool and a perfect choice for work on all sides of your house and garden.
Click the image to check the best price on amazon
Pros:
Great value for money
Heavy-duty and excellent-made
Excellent sharp pole pruning saw
Pulley mechanism minimizes the efforts of cutting
Cuts branches like a butter
Easy to use
Cons:
Pulley of the blade includes too much space
---
3. Jameson Landscaper Pole Saw Kit
The Jameson Landscaper pole saw is an excellent choice for any homeowner or arborist to trim some branches. The feature that makes it remarkable is its design, where the poles of other tools are kept inside one another and enlarged to make a greater length; it's isn't that.
Instead, it includes a 6 feet base pole, whereas the 16-inch Barracuda Tri-cut saw blade adjoins to the end of that pole offers an easy and quick cut. For extending the pole, you simply remove the saw blade and attach a different pole. It features aluminum ferrules with external leaf spring locking buttons for allowing any combination of poles.
It consists of a 6 feet base pole with two extension poles, which are 6-feet in length. So, the grand total length of the pole is 18-feet without the size of the saw blade. Each pole is consists of fiberglass, and the total weight isn't more, around 8 pounds only. However, the design helps the pole saw to make it sturdy.
Click the image to check the best price on amazon
Pros:
Innovative 3 parts design offers the flexibility of pole reach
Robust fibreglass poles
Simple to manoeuvre low profile saw head
Easy to assemble
Excellent snapping pole locking leaf button
Strong and durable
Blade cutting fast
Useful branch hook for pull-down small branches
Lightweight reduce fatigue
Cons:
Difficult to cut smaller limb
Quite expensive
---
4. Corona TP 6870 14-ft. Tree Pruner
Since Corona's founding in 1920, it has been a front-runner in innovation. The Corona TP6870 tree pruner includes a high-strength zinc alloy pruning head and a high-carbon coated steel blade (a fully heat-treated). This chain drive pole saw Increases by triple your cutting capacity, efficiently manages 1-¼ inch diameter branches, and it's an ideal choice for professionals and people.
It has a curved 13-inch razor-sharp conventional blade that increases pruning versatility, including an exclusive Powerglide rope pull system. And the teeth of the blade are impulse hardened for longer life.
On the other hand, its lightweight telescoping fiberglass pole can adjust from 7 feet- 14 feet and includes a comfortable 24-inch foam grip. In addition, the pole contains a twist-lock adjustment for speedy and safe pole adjustment.
Click the image to check the best price on amazon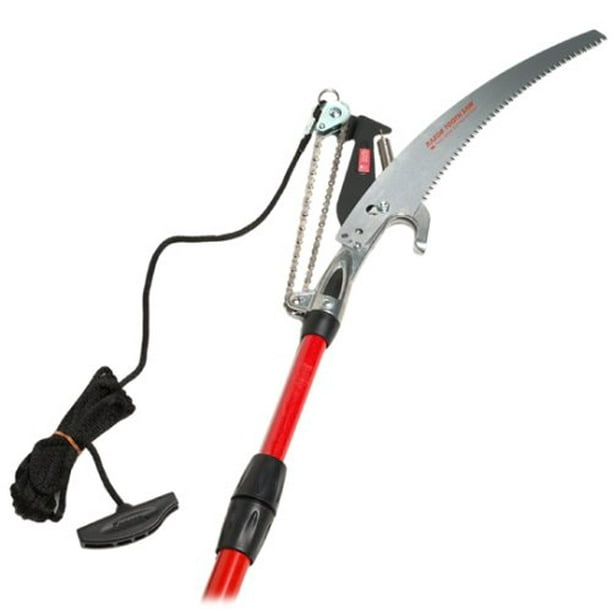 Pros:
Heavy-duty orchard pruner
Maximizes pruning versatility
Quick cutting capacity
Outstanding built
Good sharp blade
Easy to use
Lightweight
Cons:
---
5. DocaPole 6-24 Foot Pole Pruning Saw
DocaPole 6-24 foot pole pruner saw is another excellent manual saw over the market. Now it is a double-duty extension pole including 2X the strength of the real DocaPole. It's a super-rich pole saw up to 28 feet while standing, so you don't need to use a ladder again. Not only that, it's a high-quality aluminum telescoping pole that can use with a wide variety of attachments to achieve all hard-to-reach work.
It has a razor-sharp 13″ bi-directional blade, including a 3x tooth design to cut the highest branches. Its handle offers a sturdy, lightweight design and comfortable grip with a locking screw to secure the saw onto the extension pole. For grooming the thick branches, lower branches, and small logs, the premium GoSaw can also be used as a hand-held saw. It is rust-resistant and has an internal locking set screw that positively locks the handle for a secure place when trimming. 
Click the image to check the best price on amazon
Pros:
Excellent fast cutting
Chrome-plated finish offering smooth cut
Comfortable to use
Light and powerful blade
Perfect sharp blade and sturdy pole
Easy to use
Cons: 
Couplings might require adjustment
---
6. Milliard 6-16 Foot Extendable Tree Pruner
The Milliard extendable pole saw can extend from a length of 6 feet to 16 feet. It may seem limited to an extent, but It's actually able to cut a majority of the tree branches on your yard or lawn.
It has a saw and a system of sharp shears. These shears include an aperture 1.25″ wide and apply physics to clip branches that fit into it. The pole saw contains a 14-inch long high carbon SK5 steel blade for prolonged use, apart from the shears. To optimize or smooth the trimming efficiency of saw stroke, teeth should shape on 3 sides.
In addition, a nonstick finish in the 1.2 mm thick blade lessens friction, similarly lessening snags. The handle is well adjustable, allowing you to leverage the effort required to drag on the pulley cords. The foam of the handle offers a soft surface to hold the pole. Besides, a fiberglass construction in the lower section of the pole loosens maneuverability when ensuring pole strength. The remaining two sections consist of aluminum.
Pros:
Saw head cut branches 1¼ inches wide effortlessly
Adjustable and comfortable foam grip handle
Lightweight design
Excellent multiplication of applied effort
Easy to use
Cons:
7. HOSKO 10FT Pole Saw 
Hosko 10 FT pole saw is our last choice in the top 7 professional manual poles saw on the list. It comes with a 10-feet long pole that can reach more than a ladder; hand-held for lower cutting and carding. It consists of several detachable sections of poles made from stainless steel that impede rust and ensure longer service life. It is easily adjustable to your required length and simple to store and disassemble. It includes a three-sided sharpened blade edge with a single-sided barb design that easily cuts tree branches.
Moreover, this manual pole cutter is usually used for tree cutting, for example, oak, pine, palm, fronds, and firs. It is also excellent for lawns, forestry, patios, garden, yard, or other areas needing trimming branches.
Not only that, the manufacturer offers a 100% risk-free satisfaction guarantee and refund guarantee if it doesn't suit your needs.
Pros:
Lightweight pole saw but sturdy
Ensuring a long service life
Excellent sharp blade
Hook on the blade allows easy and quick removal of smaller branches
Easy assemble
Reasonable price for the product
Works well in operation
Cons:
Handle is quite flimsy than fibreglass handle
What is the best manual pole saw in the market?
Notch 40207 manual pole saw is the best professional manual pole saw over the market in 2021. It has some outstanding features such as extended reach, heavy-duty, fiberglass pole, and excellent performance. 
How to use a manual pole saw?
We know how handy a manual pole saw is. Nevertheless, you need to know the way of doing the task safely. Here is the way how should use it:
Firstly take the pole saw and, if needed, do assemble it according to your needs.
Keep the curved edge of the blade on the branch you want to cut.
Working carefully and slowly, drag the blade unto you several times to make a notch in the branch.
Once you can make a notch, the blade won't slip sideways. Then you can speed up and cut the branches easily.
Try to cut smoothly without cracking at the end and be sure the released branch falls safely.
Few things need to keep in mind while using a traditional pole saw:
The larger the pole is, the less monitoring you will have over the cutting end. So, confirm that you have fixed footing and proper visibility on the cutting surface.
Because it is manually operated, it may be physically laborious cutting a large branch. Work cautiously and have a break if required.
These kinds of pole saws work to cut down from the top of a branch.
Remember, preventing the bark from tearing or cracking, rotate the blade below the branch. And cut from beneath for larger branches when more than ¾ has finished from the front side.
What should be the blade length of a manual pole saw?
Blade length indicates the highest cutting capacity of a manual pole saw. The long blade is usually typical for trimming thick branches. Typically, 10-16 inch blade length is appropriate for a manual pole saw.
How long should a manual pole saw be?
Usually, a 12-18 foot long manual pole saw is standard for cutting high tree branches. Excessive long pole pruner saw are few hard to control and do the job. Therefore, you need to consider your requirements properly.
The answer can be both yes and no because many users prefer to get a new blade instead of sharpening the old one. It's annoying, they say. Recovering the original sharpness isn't a cup of a tree. It's feasible by some process.
The blade has to be made of top-notch Japanese steel, and the cutting edges should be heat-resistant. If so, you can get a good chance to get it for a long day.
What is the best material for the blade?
Blade keeps a vital role to successful your job- whatever it's pruning, cutting, lawn, and gardening, etc. A high-carbon steel-made blade is the best blade for the manual pole saws that ensure sturdiness and excellent resilient capacity. 
How will you choose manual pole saw – Buying Guide
Choosing the best professional manual pole saw isn't an easy task. Because you need to consider some features and things to get the best one, especially when you want to buy your first manual pole saw.
Pole Material
Pole material is an essential thing that you need to consider before choosing a manual pole saw. Our recommendation is aluminum or fiberglass-made pole saw because they are strong, durable, and light to use. Besides, they also ensure minimum cost.  
On the other hand, a heavy pole saw is tedious to work. But lighter manual pole pruning saw can help to do the work for more extended periods. We also suggest choosing a strong and comfortable grip so that your hand won't slip during work. As a result, rubber around the handle is always best for this.
Pole Length
Most of the manual pole saws have an extendable manual pole to reach the branches and trees overhead. We suggest not giving more attention to the design instead of focusing on the quality of a structure. It would help if you chose a pose that doesn't bend or wobble while extended. Consider your area where you want to use the manual pole pruner and measure the height you intend to work on. At the same time, you will go for a band that will provide enough size and allows you easily reach where you want to.
Blade
The blade is the most significant thing you must consider before buying a manual pole saw. For getting the perfect result, you must choose a blade made of high-quality and durable metal. The high-carbon steel blade is a well-known choice, but if you stumble upon another metal blade, it is advised to look over the properties first to maintain the standard features.
Moreover, it would help if you had a rust-resistant blade and 100% risk-free, mainly when using it in different environmental conditions. Storage is another factor that you also need to consider where you want to store the blade; it must be suitable for maintaining primitive conditions.
Not only that, some blades have hooks at the end to uproot weeds. These may be helpful if you plan to use it as a multi-proposing weeding tool. Some blades are better than others for cutting thick branches; some have limitations to cut one or two inches. Therefore, we suggest considering all these things before choosing the blade.
Quality
When you consider the best quality, then you need to have a reasonable budget. Of course, most people need to consider their budget before buying any tool. Most of the time, high-quality products come with a high price.
A little bit of investment for a high-quality manual pole saw can save you plenty of time and energy long term. Anything that makes worldly tasks easier and joyful has to pay for the cost. Keep in mind, in addition to safety and efficiency, quality is crucial.
Weight
To get efficiency and comfort in the work, the pole saw should be lightweight. If the pole is too heavy, it will make you exhausted, causing hand fatigue and loss of efficiency.
Durability
Obviously, we all want durable products for long-term use to save our money. Of course, high-quality instruments that make a product durable may cost a bit more. The durable product is a little bit costly, but ultimately, it will be a good investment.
In that case, the rod shouldn't break or bend under heavy load when cutting the branches or trees. For this reason, the rod needs to be made of steel or aluminum. The popular pole saw brands or companies invest more to improve the build quality of their products. Keep in mind; it is more important to purchase durable products once in the long term than pay for new cheap products every year.
Price
Manual pole pruning saws vary in price like other gardening tools. You should pick a product according to your budget. Usually, it may be meaningless to pay &80 for a manual pole saw to use once or twice per year. However, it's totally a different deal paying around $100 for the tool to use 20 times in a year.
Warranty
It's always prudent to check the guarantee or warranty on any tool you desire to spend plenty of time on. A comprehensive warranty will ensure your satisfaction with the product's performance, and if any injury occurs, you will back the compensation. Therefore, choose the product that has a maximum or lifetime warranty.
Final Verdict
Hopefully, you have enjoyed our article and have got your best professional manual pole saw with all of your queries. Still, if you can't choose, please read out the buying guide and reviews one more time. We recommend you Notch 18″ pole saw because of its outstanding quality and excellent customer feedback.
But if you intend to buy a less expensive pole saw without compromising quality, we will recommend the Fiskar 14 feet pole saw. However, you don't think other tools in our list have any less; all of them have enlisted after massive market analysis and research. All of them are best in their distinct characteristics.